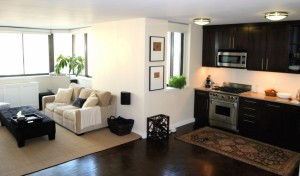 Studio apartments do not provide very much space, making every piece of furniture needing a purpose . There are a few stylistic ways to arrange and select your furniture to make the space appear larger, more functional, and still looking amazing. Below we have outlined our favorite ideas for studio apartments, or any confined space:
1. A metal bed with clean lines makes the space feel more airy than a wooden bed.
2. A couch with an ottoman provides additional seating, as the ottoman allows for storage and can be used as a seat.
3. Use a tall dresser instead of an elongated one since the height will add dimension and draw your eyes up.
4. A square kitchen table fits nicely into corners and takes up less space than a circle one.