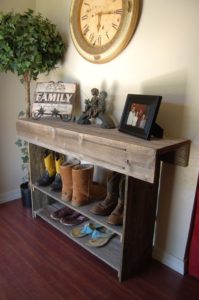 Your foyer is the first space guests see as they enter your home, so make sure the ambiance is established from the beginning. Whether your home is rustic, formal, or modern, there are a few necessities every foyer needs. As the holiday season of entertaining continues, make sure you set the tone for your home and have all the items to make your home be functional and stylish.
Coat hooks: If you don't have a coat closet, this is a necessity, especially in the winter. People will need a coat hook or rack to put their coats.
Bench: Benches come in a variety of fun styles, but they can also be a place for guests to sit as they put on their shoes and ready for their departure.
Sideboard table: Sideboard tables are thin enough that they don't take up much space, but they are a great place to put a little tray to house your keys, sunglasses, and any other items!
Shoe rack: If you like shoes to be taken off at the door, you could have a shoe rack to place the shoes at the front door.
Mirror: Take one last glance as you walk out the door!