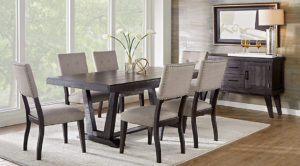 Dining rooms can be used for casual daily dinners, but also large family gatherings and entertaining. Therefore, more than a simple table is necessary to truly utilize this space. Below, we give a few recommendations on which pieces will complete the dining room of your dreams while still being functional.
An adjustable table: Many tables have leafs that can allow for extra seating when the time arises, but is also a reasonable size table for every day life.
Buffet: You can display the evening's meal on the buffet for easy serving. You can also  use this place for additional storage. They also come in many styles and can add a decorative element to the room.
China cabinet: This is the perfect place to display and store your china or serve ware that isn't used everyday.
Decor: Now for the fun personalizing! Add pictures, table linens, center pieces- whatever is necessary to make the room feel like home.