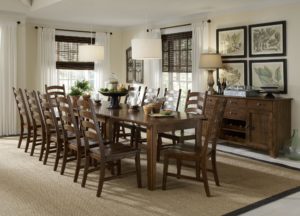 Furniture tends to stay in our homes for years at a time, but some pieces remain in households for longer than others and thus should be chosen wisely. These investment pieces may even be passed onto future generations, so why not buy what you truly want and know they will last you for years to come? Below, we detail the pieces we believe are most worthy of your investment:
Dining Room Table: A nice, wooden dining room table can stand the test of time. Its style can easily be changed with decor, or even by recovering the fabric on the seats. We recommend a table that can seat eight or a table that has a leaf so it can be adjusted for larger gatherings.
Leather Couch: Leather couches may not be an heirloom piece, but they can endure the wear and tear of everyday life with children and pets. If purchased in a neutral hue, they can easily change styles with pillows and throws. The clean up alone will make this a worthwhile investment.
Beds: The mattress may only last 8 years, but your bed can last you much longer. Pillows, quilts, and even nightstands can easily switch up the style. If you buy a fabric headboard, it can even be recovered as your style evolves!